During our stay in Morocco we tried many dishes of local cuisine. Before going to Morocco we associated Arab cuisine with interesting flavors, combinations of oriental spices with meat and vegetables, fragrant varieties of tea, delicious seafood. So what did we get in fact, and what dishes and drinks are served in cafes and restaurants in Morocco? Read thes articl to have more information about Moroccan food
1-Vegetable couscous with meat

In Europe couscous is not cheap and is almost considered an exotic side dish. For example, in the Czech Republic a kilo of couscous will cost 3-4 euros for culinary delights. In Morocco couscous is a familiar side dish and is used to prepare many traditional dishes. For those who didn't know, couscous is a coarsely ground grits.
One of the most popular variations of this side dish Moroccan food is couscous with vegetables and a piece of meat (chicken, beef or lamb) or fish. Couscous is cooked in a pot or in a special pot – tajine. Tajin is a ceramic dish with a conical lid. When cooked in a tagine, the food is stewed and acquires a subtle flavor. When served, the lid is removed and you get a ceramic plate with meat on the bone, couscous, and coarsely chopped vegetables on top (turnips, carrots, eggplant) and aromatic spices. Sounds delicious, doesn't it? However, if you don't like couscous, you're a meat-eater, and you want to be well-fed, then it's categorically not good for you. And that's because there is not much meat in such dishes – no more than 100 grams.
The average price of vegetable couscous with meat (couscous aux legumes et à la viande) in Moroccan restaurants food is 45-80 Dirhams, depending on how touristy the place is where you eat it. Personally, I was expecting big portions at such small prices for Africa.
2-Tagine
A tajine is not only a pot for stewing meat, but also any dish that is cooked in such a pot. Interesting variations of meat or fish dishes are prepared in a tajine – we appreciated the tajine with beef and prunes (tajine de boeuf aux prunes), as well as tajine with chicken, lemon and olives (tajine de poulet au citron). Traditionally, tajine is cooked over a fire and spices, dried fruits and olive oil are added to flavor the dish. This dish is served with slices of Moroccan flatbread to collect the rest of the sauce and sprinkled with almonds or slices of boiled egg on top.
Most places in Morocco have menus only in Arabic or French. So if you do not speak any of these languages, be sure to look up the translation of unfamiliar dishes in the dictionary, otherwise you may order tajine with giblets or liver instead of meat.
The average price for a tagine varies from Dh40 to Dh90 depending on the fillings. We had the most delicious and hearty tajine at Menara Mall in Marrakech for 85 dirhams. No matter where else we tried the tajine, we never encountered such an intense flavor again. We had the worst tajine with liver in it at the Zayna restaurant in the new medina in Casablanca.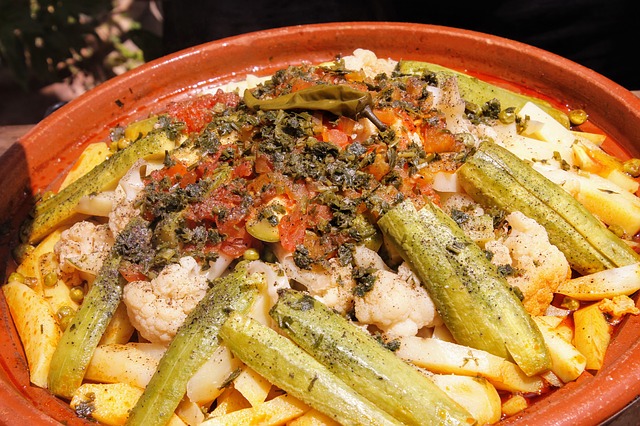 3-Shish Kebab
A popular type of kebab in Turkey, which resembles our shish kebab, has reached Morocco. As a rule, such kebab is cooked from chicken or lamb, and fresh vegetables and onions are added to the skewer. Shish kebab is a fast version of a snack. It can be found at roadside cafes and at the food courts of shopping malls. It is often garnished with French fries and a small vegetable salad. The average price of a portion of shish kebab is 60-70 dirhams with side dish in a clean place.
4-Harira Soup
Harira is a traditional Moroccan food soup made of meat broth with tomatoes, lentils and chickpeas. The soup is served with a mint flatbread and a couple of dates. The soup may be served with ground or whole ingredients in a blender. Sometimes pieces of chicken or lamb are added and the soup is sprinkled with lemon juice when served. Harira soup seemed to us too greasy and spicy – it is not for nothing that Arabs fast with it during Ramadan. The average price of a bowl of harira soup is 6-8 dirhams.
5-Moroccan food mint tea
Local mint tea (thé à la menthe) is often called "Moroccan whiskey" because it is incredibly relaxing. Green tea with peppermint is lavishly laced with sugar and poured into a traditional teapot with a narrow spout. The tea is poured into small glass cups from a height so that it is oxygenated and also so that foam is formed. During the meal, each guest drinks one small teapot of mint tea. The cost of a cup of mint tea in the cafe is 15-20 dirhams.
In Moroccan markets you can buy dried mint (for less than 10 dirhams for a large bundle) and brew yourself a fragrant mint tea at home. Another thing is that the tea will not be factory packaging, and may cause suspicion to customs officials at the entrance. But this, of course, is a joke. In addition to dried mint, you can also buy Berber tea – intoxicating blend of mountain herbs with a unique flavor.
6-Moroccan food Sweets
The locals are very fond of sweets, and therefore there are whole departments with small packaged cookies in stores. You can buy an already assembled box of sweets or assemble a box of your own taste. I remember these sweets with their bright almond and honey flavor and marzipan filling. We took them to Prague, but upon arrival we realized that we liked them only in Morocco, and at home they did not cause any special emotions. The price for a box with a kilo of Moroccan sweets is 70-100 Dirhams. Not a bad souvenir for sweet-tooth friends.
Before the Carrefour supermarket, we tried these sweets at the cute L'Adresse café in Djema el-Fna square in the medina of Marrakech, ordering a plate with them for dessert. It cost in the neighborhood of 70 dirhams.
In Morocco, we were very pleased with the sweets sold in the Paul's confectionery chain. They were much tastier than what we are used to in Prague. To eat such a delicious tartlet with raspberries and drink coffee in Marrakech can be done for 55 dirhams.
7-Orange and Pomegranate Fresh
Many people have heard that Morocco is an orange paradise. Oranges are delicious here, and their freshly squeezed juice is excellent. We didn't dare to try the fresh fruit in the street as the level of hygiene in some places was horrible, but in any café or restaurant you can order a fresh fruit made of juicy oranges for 15-20 dirhams. We asked not to add ice to the juice, because the running water in Morocco is not of the best quality, and ice is made from it.
In addition to orange juice, the streets of Morocco offer pomegranate juice for only 10 dirhams. By the way, the local pomegranates, which were small and pink, were not to our liking. But the imported Turkish pomegranates, which were literally bursting with juice, were so delicious that we took a couple with us back to Prague.
The unusual thing is that in the markets in Moroccan medinas, there are carts of cacti here and there. The vendor cleans the cactus in front of you with special gloves and pulls out a juicy burgundy fruit. The main thing here is not to get dirty.
8-Fast Moroccan Food
Fast food or street food in Morocco helped us a lot, especially at the end of our trip, when the local tagine was no longer acceptable. The range of fast food here is classic: pizza, spaghetti, burgers. We tried pizza and spaghetti with meat at the food court in the mall in Fez and were not really full, so we had to order more. The spaghetti was funny: in spite of the two portions we ate, we were still not satiated.
Very tasty and juicy burgers we ate not far from our rented apartment in Casablanca – at Blend. At McDonalds, a good burger with meat in it costs around 40-50 dirhams. A lunch of burgers and drinks for two at a decent place costs 200 dirhams.
As for the local fast food, we never dared to visit a place with it. It was too unkempt and dirty inside. As a rule, such cafes serve pizza, shawarma, burgers, sandwiches at a price of 20 to 45 dirhams per serving. You can find such places by their smell, because the stench from them can be felt a mile away.
9-Seafood
We did not try seafood in Morocco for the reason that they were served exclusively in expat establishments, and we wanted to try something local and authentic. I approached the fish counters at Acima and Carrefour supermarkets several times and was always amazed at the price of seafood. For example, one kilo of small shrimps costs about 14 Euros, while in neighbouring Canary Islands a huge box of shrimps (at least 2.5-3 kilos) comes to less than 20 Euros. The impression is that in Morocco, fish at a bargain price can be taken only in the markets of the locals. But then again, if you are a tourist, no one will ever tell you its real price. And if you want to buy seafood in normal conditions in a supermarket, be prepared to pay a tidy sum.
10-Local dates
Like in many other southern countries, Morocco grows dates. We tasted several varieties of dates – including those bought in the supermarket at 180 dirhams per kg, bought in the bazaar in the medina at 120 dirhams per kg and at a small kiosk near the house at 40 dirhams per kg. The more expensive ones were very sugary and juicy and would have been a good replacement for a sweet. But the cheaper ones did not cause any special emotions. At the market, in addition to Moroccan dates, you can buy Tunisian ones.
11-Bread
Observing the people of Morocco, it is not difficult to notice that people live very poor, so I had the opinion that bread is the main product on the Moroccan table. But, again, I was disappointed when I tasted different kinds of bread in Morocco. It was always unpalatable, rubbery, and this was true of any bread – bought at the market or served for lunch in a restaurant, or a baguette bought in a European supermarket. More often than not, Moroccan tortillas are brought to diners. They are also a staple in markets in Moroccan Food cities.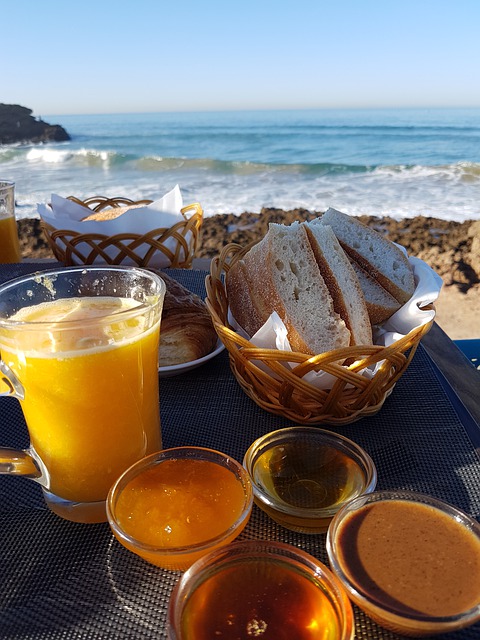 12-Alcohol in Morocco
As in other Arab countries, alcohol is not plentiful in Morocco. However, you can buy it in special alcoholmarkets or in shopping malls built in expat neighborhoods away from mosques.
A pleasant discovery for us were not bad local wines – especially the red ones. The wines are produced here according to French technology under the keen supervision of European specialists. A 0,75 liter bottle will cost you from 55 to 100 dirhams. In Morocco they sell a unique grey wine, "vino gris," which cannot be found anywhere else in the world. We tasted it, but did not find anything special in it.
In addition to wines, Morocco also produces beer. We only managed to try Casablanca Premium beer. It costs about 15 dirhams for a 0.33-liter bottle in a special alkomarket. The beer turned out to be a regular light lager, without any frills or aftertaste. So we preferred to spend the evening with a glass of red wine.
In conclusion I would like to say that we expected from the Moroccan cuisine more. It loses in many ways the Mediterranean cuisine and can not be compared with the cuisine of neighboring Canary Islands. Tourists write that the seafood is better in the coastal resort town of Agadir than in the rest of the country – I do not know, we have not checked. We were unpleasantly surprised by European prices in restaurants and small portions for the money. Have you tried the Moroccan cuisine?